Legalization DMS™
Internal Products > CubeIQ
R E G U L A T O R Y C O M P L I A N C E
Enabling Technologies for Financial Services
AMLInfo a CubeIQ Limited Division
Welcome to
AMLInfo
Web Site for Regulatory Compliance Technology - AML & Compliance Products and Services.
Legalization Document Management System - LDMS™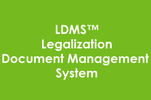 LDMS™ - Legalization Document Management
System is a system for storing, searching and retrieving organizations' customers' legalization documents.
LDMS™
can be used for managing customers' legalization documents from Compliance, Anti-Money Laundering (AML), Know Your Customer (KYC) and other departments, primary in Banks and Financial Institutions.
Processes in which LDMS™ is involved:
1. During and after customer onboarding.
2. During customers' data searching.

3. When analyzing suspicious transactions activity for searching customers' credentials.

4. When searching Beneficial and Ultimate Beneficial owners data.
Legalization Documents
Individuals

Business

Civil or Military ID
Articles of Association

Driver's License

General Assembly Resolutions

Passport

Board of Directors Resolutions

Copy of Tax Return Form

Copy of Tax Return Form

Certificate of Residency

Tax Residency Certificate

Employer Statement

Lettes of Good Standing

........

Major Shareholders Legalization Documents




Signatories Legalization Documents




Legal Representatives Legalization Documents



........
LDMS™
is developed from CubeIQ for addressing the needs of Compliance, AML, KYC and any other departments in a Financial Institution, when there is lack of a Legalization Documents Management System for an efficient, flexible and scalable, enterprise wide system for managing customers' legalization documents.
LDMS™ is built on a contemporary and robust Document Management & Workflow engine with a proven capacity to process millions of documents and with successful installed base of more than 3200 diversified sites.
Document & Records Management.
LDMS™ lets you capture, index, route, search and manage scanned as well as your digital documents.
LDMS™
is fully integrated with Microsoft™ Office environment. Users can save emails, Word, Excel all other Microsoft™ Office documents and other Microsoft™ Windows supported documents such as audio or video files to LDMS™ database directly from your browser, without printing or scanning or otherwise processing them.
LDMS™
is easily integrated with any of your existing business-critical applications so you can share data with your other applications and view your documents from your other applications.
Users search LDMS™ document database by typing in a word or phrase. Users can also search by highlighting a search word or phrase in your CRM, ERP, Accounting, Logistics or any banking application or your core banking system, including COCC (Integrated, Innovative Financial Services Technology), Fiserv, FIS, Harland Financial Solutions, Jack Henry & Associates, and Open Solutions core banking systems.
e-Forms Processing.
LDMS™
integrates Electronics Forms generation and processing functionality. Users can complete electronic forms over the Internet or intranet and optionally sign the e-form with an electronic signature (eSig) pad or their mouse. User can attach to the e-form photos, civil ID, passport, driver's license or any other legalization document.
LDMS™
can transfer the data and the images from an e-Form to organization's Core Banking, AML, Accounting, Human Resources, CRM system or any other system or database.
Typical e-Forms applications supported by LDMS™ in the Banking environment include:
2. Loan/Credit Card Application.

3. Transaction/Funds Transfer Execution Order

5. Declaration of Status for Business Owners.
LDMS™
it is easy to install and use; can be rapidly deployed across the entire enterprise with minimum on-site assistance.
LDMS™
enterprise content and document management software organizes your documents, in compliance with legal regulations, in a secure document repository.
LDMS™
provides search and document workflow to automate business processes and ensure employees have the information they need, at the time they need it, accurately and quickly, making better and quicker decisions.
LDMS™
e-Forms capability replaces paper forms and saves all expenses – print, data entry, scan and storage, related to paper forms management. Users fill out, route and approve e-Forms directly from their browser leading the organization to the digital era.
Operating Environment.
LDMS™
Server is installed on Microsoft™ Windows Server 2016/2014/2012/2008 platforms with Microsoft™ IIS version 7.5 and newer and as database uses Microsoft™ SQL Server 2016/2014/2012/2008R2 and Microsoft™ SQL Express for application with less than 10GB od data.
LDMS™
is a full Web based application. LDMS™ Client operates on any Web browser on Microsoft™ Windows 11/10/8/7/XP such as Microsoft™ Internet Explorer, Microsoft™ Edge, Chrome™, Mozilla Firefox™ and any browser device, including iPad, iPhone, or Android devices can be used.