Know Your Business - Vendor
Internal Services > KYC & Customer Onboarding
R E G U L A T O R Y C O M P L I A N C E
Enabling Technologies for Financial Services
AMLInfo a CubeIQ Limited Division
Welcome to
AMLInfo
Web Site for Regulatory Compliance Technology - AML & Compliance Products and Services.
>>
Know Your Business (KYB) -
Know
Your
Vendor (KYV)
Know Your Business & Know Your Vendor Platform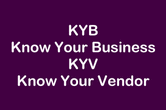 Know Your Business (KYB) – Know Your Vendor (KYV)
is a CubeIQ services platform that provides to organization the capacity to know the basic participants in a company, corporation, partnership or any other form of incorporation.
KYB/KYV
simplifies and empowers
KYC procedures in AML/Compliance, Risk Management and Procurement/Contract Management departments of Banks and Financial Institutions.
Our platform provides live access to official registries, downloads official documents in
real-time
and sources:
Shareholder

Legal Representatives

Signatories

Executive Directors

Board of Director Members

Beneficiary Owners and Ultimate Beneficiary Owners

Other Controlling Persons
across a number of jurisdictions.
The Know Your Business platform accelerates the Know Your Business process, by employing a combination of
Automation
,
Optical Character Recognition (OCR)
and
Artificial Intelligence
to digitize the key (manual) steps any compliance or procurement or risk management officer would need to go through when onboarding a new corporate client.
The live access to official registries innovative approach means that ownership and controlling person information is
always accurate
as of that minute, and audit-ready documentary evidence is always at compliance teams' disposal.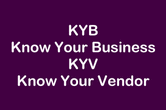 Know Your Business platform automatically sources
, from the official documents, all corporate controlling entities information. The system then
unravels multiple layers of ownership
and present the verified information in intuitive company structure charts for compliance officers to review.
We provide
multiple options to quickly and securely collect information and documents
for individual shareholders and directors, including the Know Your Customer mobile app and Web Browser portal. Rest APIs for fast integration to end-user AML, Risk, Contract Management and other back office systems are also available.
Know Your Business Features and Benefits


Real-time Official Registry Connection.
By acquiring official incorporation documents directly from the company registry, in 180+ countries and jurisdictions, our solution reduces the time needed for corporate client onboarding by up to 86%, minimizing customer friction and accelerating access to revenue.

Instant Shareholders/Directors/UBO/Company Structure Charts.
Our technology utilizes information extracted from official filing documents to identify corporate entities' Ultimate Beneficial Owners (UBOs) and build complex company structure charts in a matter of seconds.

ID Verification and On-going AML Screening.
As our system identifies a new corporate entity or an individual as part of a KYB case, it automatically screens them for any AML activity, continuously monitoring their status and instantly flagging any changes in their situation (by connecting to a separate names screening service).
ID Verification and AML Screening is platform's extension by using a separate IDV and Screening services.

Linkage & Duplicate Detection.
By centralizing all customer onboarding activities for both individual and corporate clients, (Know Your Customer) KYB platform is able to automatically identify relevant links between existing cases and instantly detect potential duplicates to prevent unnecessary repetitions or data pollution.

API Integration & Batch Upload Portal.
Our solution runs on an API-based infrastructure for fast implementation and seamless integration. We also provide an easy-to-use batch upload portal which empowers compliance teams to instantly and securely import long back logs into the Know Your Customer's platform.

Immutable Audit Trail.
Our Immutable Audit Trail contains all the details and steps of any KYB & KYC case, from inception to close. Actions and events are stored in a concise, immutable record which can be easily consulted by team members and retains documentary evidence for auditors.
Various departments in an organization can use the KYB platform either individually or in-line. Customer information can be shared among customer onboarding related departments and back office systems including core banking or ERP or CRM which can be updated in real time (seconds) using KYB platform API-based infrastructure.
Know Your Business platform is used by:
The Compliance / AML department for the CDD/EDD on corporate customers (Know Your Business).

The Risk Management department for screening shareholders and other controlling entities of a company during the evaluation of providing a loan or other financial service.

Procurement / Contract Management department for detailed pre-contractual vendor audit.

Search for Companies.
Connect to official company registries,

129+ countries and jurisdictions, from around the world, including the 50 Sates of USA

, in real-time from one centralized platform.

Retrieve Official Documents.
Download

mandatory company documents

from their primary source and let the system extract key information instantly.

Unravel Ownership Structures.
Review intuitive charts of complex ownership structures built automatically across jurisdictions.

KYC Controlling Individuals.
Perform required KYC checks on shareholders, controlling entities and ultimate beneficial owners as required by AML regulations.